Powerful Lithium camera batteries CR-V3
| | |
| --- | --- |
| Model No.︰ | CRV3, LB-01, CR |
| Brand Name︰ | OEM acceptable |
| Country of Origin︰ | China |
| Unit Price︰ | - |
| Minimum Order︰ | 20000 pic |
To power your photographic equipment, our company has developed high quality photo batteries. The photo lithium technology provides you with the necessary energy for your camera. They offer quick flash recovery, have a shelf life of 1o years and can operate under extreme temperatures.

The range of Power Lithium camera batteries includes the CR123A, 2CR5, CR-P2, CR2 and the new CR-V3 for digital devices.
Expected storage life of up to 10 years.

Works within an extreme temperature range.

Mercury and Cadmium free.

Specifications︰
Model No. CR-V3
Capacity(mAh) 3000
Voltage(V) 3
Height(mm) 52
Diameter(mm) 14x28
Weight(g) 39
Pack Size 1

Also known as: CRV3, LB01, LB-01, Olympus LB-01, Olympus Camedia LB-01.

Advantages︰
The CRV3 Lithium Battery is OUR next-generation battery specifically for today's newest film and digital cameras

The CRV3 Lithium Battery is designed specifically for today's feature-rich cameras. They're the obvious choice for speed, performance, and long life. They deliver faster flash recycle times and last up to 10% longer than our previous design

Export Markets︰
USA, Europe
Pricing︰
N/A
Payment Details︰
L/C, T/T
Min Order︰
10,000PCS
Ship Date︰
Within 20 days
Standard Met︰
UL, EU RoHS
Product Image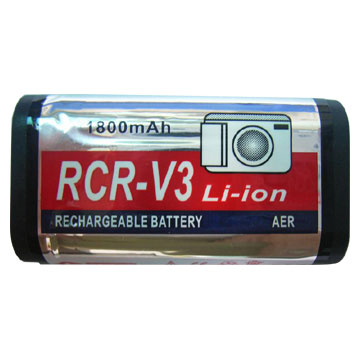 CR-V3
Related Products